In stock
Seabob F5S
Discover the SEABOB F5 S, the top-rated superyacht toy that's setting sales records worldwide. Experience luxury and aquatic adventure like never before with this unbeatable underwater scooter.
18 km/h – Speed under water
20 km/h – Speed over water
60 min – Operating time
12.480,00 €
Worldwide Delivery
We deliver Water Toys directly onboard, anywhere, anytime.
Guaranteed Fun
Thrill your guests with the latest Water Toys.
Best prices
We offer the most competitive prices on the market.
Short notice
Need a Toy today? No problem!
What's in the Box
SEABOB F5S
SEABOB Standard charger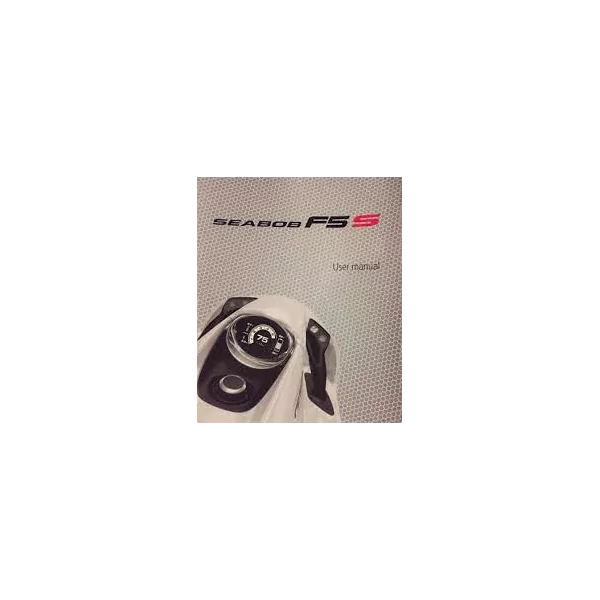 Owners manual
What You Need To Know
SEABOB F5 S
Unleash the Power of the Sea with SEABOB F5 S
Harness the power of the sea with the SEABOB F5 S, the ultimate water sports gadget that brings luxury, adventure, and exhilaration to your aquatic pursuits. Whether you are a seasoned water sports enthusiast or a novice seeking some adrenaline-filled excitement, the SEABOB F5 S is a unique sea scooter that guarantees an unrivaled water experience.
Luxury at Your Fingertips
If you've been searching for an "amazing underwater scooter," your search ends here. As a top "luxury sea scooter," the SEABOB F5 S stands out for its unparalleled design, functionality, and power. It's also a best seller among yacht and superyacht owners, proving its elite status and unmatched performance in the luxury water gadget market.
Exceptional Performance Underwater
The F5 S model is a perfect blend of "speed and buoyancy," offering a top underwater speed of 4 m/s, making it an "extraordinary water sports gadget." With its impressive agility and robust power drive, the SEABOB F5 S enhances your marine adventures, letting you dive and "explore marine life" like never before.
Innovation Meets Sustainability
An absolute marvel of "innovative aquatic technology," the SEABOB F5 S is "lightweight and eco-friendly." With its E-Jet Power System, it promises a silent, zero-emissions drive while ensuring "high performance underwater." The "highly durable material" used for its construction withstands harsh marine conditions and ensures long-term use.
Easy-to-use and Safe
The "easy-to-use control panel" provides intuitive operation and shows you relevant information like battery status and depth. The "Safety Cut-Off" feature ensures a safe water ride by stopping the scooter if it goes too deep underwater.
Customizable and Camera-Ready
The SEABOB F5 S offers "customizable features" to fit all, from beginners to seasoned water adventurers. With an optional "Camera System," it's perfect for "underwater photography" enthusiasts aiming to capture high-resolution pictures and videos of their underwater escapades.
Your Underwater Adventure Awaits
Enhance your marine life adventures, make a splash at the beach, or explore the unseen underwater world with the SEABOB F5 S. It's a "must-have sea gadget" for those aiming for an unparalleled water experience. Grab this "high-end sea scooter" and experience a new dimension of aquatic freedom.
Conclusion
In conclusion, the SEABOB F5 S redefines aquatic adventure, merging luxury, power, and innovation into one spectacular package. So if you're in the market for an "underwater sea scooter" or simply searching for "SEABOB F5 S for sale," this is the ultimate product for you. Turn your ordinary beach day into an extraordinary adventure with the SEABOB F5 S. Shop now and dive into a world of unlimited aquatic fun and excitement.
SEABOB F5S – Technical Specifications
Performance up to:
Maximum Thrust: 680 N
Maximum Speed Over Water: 20 km/h
Maximum Speed Under Water: 18 km/h
Speed Control: 6 power levels between 0% and 100% through controlgrip
Construction:
Body: High-strength, sea-water-resistant plastic
Motor: Performance-optimized brushless DC motor
Buoyancy: Adjusted buoyancy for neutral hovering in water
Power:
Battery: Lithium-ion accumulator
Operating Time: Average 60 min
Charging Time (Standard Charging): Approximately 7 hours
Charging Time (Quick Charging): Approximately 1.5 hours
Safety:
Depth Limit: Factory setting 2.5 m (can be set to maximum 40 m)
Diving Depth: Safety cut-off
Operational Elements: All operational elements clearly marked and illuminated
General:
Weight: Approximately 34 kg
Dimensions (L x W x H): 1153 mm x 507 mm x 372 mm
Special Equipment: Elements in chrome design
Certification: CE conformity, certified according to ISO 9001
In the Box:
Seabob F5S
Standard Charger
User Manual
Please note that all specifications are subject to change without notice. Actual performance may vary depending on conditions and other factors.
Disclaimer: Seabob F5 should be used responsibly and according to all safety guidelines. Always ensure your safety and the safety of others around you when using the Seabob F5S.
Performance up to2.5 kW4.0 kW4.5 kW
| Feature/Model | SEABOB F5 | SEABOB F5S | SEABOB F5SR |
| --- | --- | --- | --- |
| Max. Thrust | 480 N | 680 N | 745 N |
| Max. Speed Over Water | 14 km/h | 20 km/h | 22 km/h |
| Max. Speed Under Water | 13 km/h | 18 km/h | 20 km/h |
| Speed Control | 4 power levels | 6 power levels | 7 power levels |
| Construction (Body) | High-strength plastic | High-strength plastic | High-strength plastic |
| Motor | Performance-optimized DC motor | Performance-optimized DC motor | High-performance DC motor |
| Buoyancy | Adjusted for neutral hovering | Adjusted for neutral hovering | Adjusted for neutral hovering |
| Battery | Lithium-ion accumulator | Lithium-ion accumulator | Lithium-ion accumulator |
| Operating Time | Average 50 min | Average 60 min | Average 70 min |
| Charging Time (Standard) | Approx. 8 hours | Approx. 7 hours | Approx. 7 hours |
| Charging Time (Quick) | Approx. 1.5 hours | Approx. 1.5 hours | Approx. 1.5 hours |
| Depth Limit | 2.5 m (set to 40 m max) | 2.5 m (set to 40 m max) | 2.5 m (set to 40 m max) |
| Diving Depth | Safety cut-off | Safety cut-off | Safety cut-off |
| Weight | Approx. 29 kg | Approx. 34 kg | Approx. 35 kg |
| Dimensions (L x W x H) | 1153 x 507 x 372 mm | 1153 x 507 x 372 mm | 1153 x 507 x 372 mm |
| Special Equipment | Elements in chrome design, SEABOB Cam system, Quick Charger | Elements in chrome design, SEABOB Cam system, Quick Charger | Elements in chrome design, SEABOB Cam system, Quick Charger |
Please note that this table is based on the data available as of our knowledge and some specifications may have changed. Always refer to the most recent product manuals or the manufacturer's website for the most accurate and up-to-date information.
Basic Yellow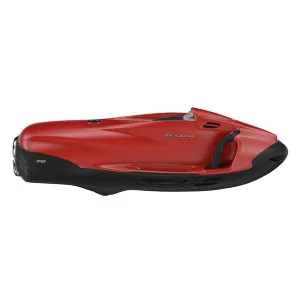 Basic Red
Bright color - Lumex Orange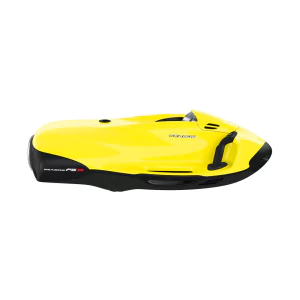 Bright color - Lumex Yellow
Special color - Platin Silver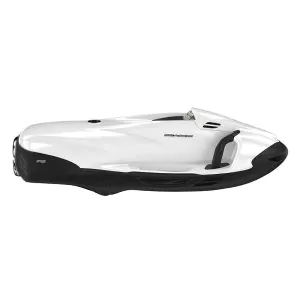 Special color - Star White
Special color - Ixon red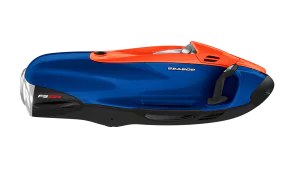 Bicolor - Blue/Orange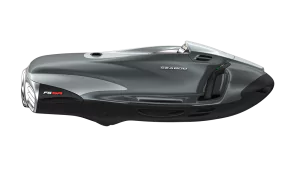 Silver Line Design
Need help?
Ask for support
Send an inquiry instead
Alternatively fill out the form and send us an inquiry. We will come back to you the old fashioned way. In a flash!
Don't want to buy?
Why not rent a Seabob
Merci for all your action taken to arrange the board. Your service is very very much appreciated.
Ulrich
Captain, 33m Custom Line
I just hope that in the yachting industry will have more people like you because it makes a big difference for Captains and guests.
Thanks again for your outstanding work and I wish you all the success that you deserve. All the best for the future and let's stay in touch.
Ocean Premium delivered a great backup service under difficult circumstances. Thank you both Blaz and Barbara for all your help and finding solutions. The Seabobs and Jetsurf were returned on time, fully serviced and looking like new.
Xavier
Captain, 29m Mondomarine
We have always had friendly and efficient service from Blaz and his crew at Ocean Premium. They have dealt with repairs and servicing of our F5 and F7 Seabobs, as well as solving a few tricky Segway issues over the years. I would highly recommend working with them and will continue using them in the future.
Johan
Chief Officer, 65m Fedship
It was a pleasure working with you. The service and the availability were just as needed. Thanks for all.
Yosef
Captain, 29m Benetti
You're amazing. Thank you very much, it's really appreciated. I'll be sure to inform management and our guests of your ongoing assistance with all our requirements.
Christian
Chief Officer, 86m Oceanco







Ocean Premium has been supporting yachts and charter brokers with water toy rentals for over a decade. Constantly improving on the feedback of our clients and partners gives us the edge to excel at what we do. Several hundred yachts we work with continuously prove this.
Subscribe to our Newsletter
Stay informed
Receive Special offers and stay informed about the latest developments in the world of Water Toys.
In order to understand how we use and protect your personal information, please read our privacy policy.