In stock
Battery FliteCell Nano
16,8 AH,
806 Wh capacity,
50,4 V Nominal Voltage
Run time up to 45 minutes.
Titanium Case
6,2 kg
With FliteCell Explore, you can push the limits of your Fliteboard efoil and embrace a world of boundless possibilities on the water. Choose FliteCell Explore and elevate your watersports exploration to extraordinary heights.
2.100,00 €
Worldwide Delivery
We deliver Water Toys directly onboard, anywhere, anytime.
Guaranteed Fun
Thrill your guests with the latest Water Toys.
Best prices
We offer the most competitive prices on the market.
Short notice
Need a Toy today? No problem!
What's in the Box
Flitecell Explore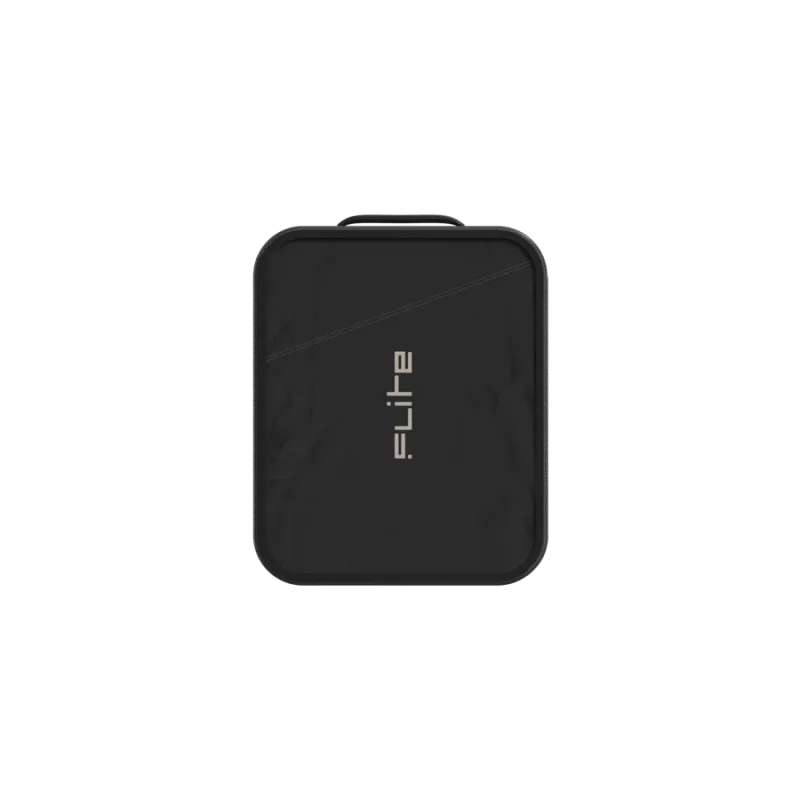 Flitecell Bag
What You Need To Know
FLITECELL Nano
Experience Maximum Maneuverability and Endurance with the World's Lightest Lithium-Ion Battery
Unleash Unparalleled Power and Performance
Prepare to take your eFoil experience to new heights with the groundbreaking FliteCell Nano. As the world's lightest lithium-ion battery, the FliteCell Nano is designed to deliver unrivaled power, agility, and endurance, making it the ultimate choice for eFoil enthusiasts who crave an extraordinary riding experience.
Lightweight Design for Maximum Maneuverability
Weighing in at a mere 6.2 kg (13.7 lbs), the FliteCell Nano is the epitome of lightweight design, allowing you to effortlessly glide through the water with minimal resistance. Its strategic positioning closer to the mast significantly reduces swing weight, ensuring maximum responsiveness and unparalleled maneuverability on the water.
Cutting-Edge Technology for Enhanced Performance
The FliteCell Nano incorporates Phase Change Materials (PCM), a groundbreaking innovation that enables the battery to efficiently absorb and release energy. This unique feature enhances thermal management, ensuring optimal performance even in demanding conditions. Push the boundaries of your eFoil adventures without compromising safety or longevity.
Premium-Quality 21700 Cells for Exceptional Power
Inside the FliteCell Nano, you'll find premium-quality 21700 cells, the same cells utilized in high-power applications like hypercars. This extraordinary battery technology delivers incredible performance, unleashing the power you need to effortlessly carve through the water. The FliteCell Nano is built to withstand the challenges of the marine environment, thanks to its signature titanium plates that provide exceptional resistance to corrosion and increased impact resilience.
Safety Measures for Peace of Mind
At Flite, safety has always been our top priority. The FliteCell Nano incorporates a range of proprietary safety measures to protect both you and the battery. The sight glass feature allows for easy monitoring of the battery's charge level, ensuring you're always prepared for your next adventure. The magnetic on/off mechanism provides added convenience and peace of mind, allowing you to easily activate or deactivate the battery.
Unleash the Full Potential of Your eFoil Adventures
Experience the exhilaration of eFoil adventures like never before with the FliteCell Nano. Upgrade your eFoil with the world's lightest lithium-ion battery and unlock the full potential of your rides. Elevate your performance, maximize your maneuverability, and embark on unforgettable eFoil journeys with the FliteCell Nano as your reliable power source. Explore uncharted waters, carve through waves effortlessly, and immerse yourself in the thrill of eFoil riding with the FliteCell Nano, the ultimate battery for unforgettable eFoil adventures.
Title: "FliteCell Nano: Unleash Unparalleled Performance in the Lightest eFoil Battery"
Subtitle: "Experience Maximum Responsiveness and Durability for Unforgettable Rides"
FliteCell Nano revolutionizes eFoil technology as the world's lightest lithium-ion battery. Its strategic positioning closer to the mast achieves minimal swing weight, delivering an extraordinary level of responsiveness and maneuverability for an unparalleled riding experience.
FliteCell goes beyond being a portable marine battery; it is a cornerstone of Flite's triumph. Our FliteCells are infused with cutting-edge Phase Change Materials (PCM), which absorb and release energy, resulting in enhanced thermal management, safety, and longevity that surpass industry standards.
Employing premium-quality 21700 cells, the same utilized in high-power applications like hypercars, FliteCell Nano unleashes incredible performance. Moreover, the incorporation of signature titanium plates ensures exceptional resistance to corrosion and increased impact resilience.
Battery safety remains our top priority, reflected in our proprietary safety measures such as the sight glass and magnetic on/off mechanism.
Technical Specifications:
Weight: An astonishingly light 6.2 kg / 13.7 lbs, redefining eFoil battery portability.
Capacity: A generous 16.8 Ah, empowering you with extended ride times.
Energy: A robust 806 Wh capacity, providing remarkable energy output.
Nominal Voltage: 50.4V, ensuring consistent and reliable performance.
High Voltage: 58.8V, delivering exceptional power during your eFoil adventures.
Low Voltage: 42V, preserving battery life and optimizing performance.
Experience the ultimate blend of lightweight design, unmatched performance, and advanced safety features with FliteCell Nano. Elevate your eFoil adventures and embrace the extraordinary responsiveness, durability, and maneuverability that define the exceptional capabilities of FliteCell Nano.
Need help with rental?
Ask for support
Send an inquiry instead
Alternatively fill out the form and send us an inquiry. We will come back to you the old fashioned way. In a flash!
Don't want to buy?
Why not rent a Flitecell
Merci for all your action taken to arrange the board. Your service is very very much appreciated.
Ulrich
Captain, 33m Custom Line
I just hope that in the yachting industry will have more people like you because it makes a big difference for Captains and guests.
Thanks again for your outstanding work and I wish you all the success that you deserve. All the best for the future and let's stay in touch.
Ocean Premium delivered a great backup service under difficult circumstances. Thank you both Blaz and Barbara for all your help and finding solutions. The Seabobs and Jetsurf were returned on time, fully serviced and looking like new.
Xavier
Captain, 29m Mondomarine
We have always had friendly and efficient service from Blaz and his crew at Ocean Premium. They have dealt with repairs and servicing of our F5 and F7 Seabobs, as well as solving a few tricky Segway issues over the years. I would highly recommend working with them and will continue using them in the future.
Johan
Chief Officer, 65m Fedship
It was a pleasure working with you. The service and the availability were just as needed. Thanks for all.
Yosef
Captain, 29m Benetti
You're amazing. Thank you very much, it's really appreciated. I'll be sure to inform management and our guests of your ongoing assistance with all our requirements.
Christian
Chief Officer, 86m Oceanco







Ocean Premium has been supporting yachts and charter brokers with water toy rentals for over a decade. Constantly improving on the feedback of our clients and partners gives us the edge to excel at what we do. Several hundred yachts we work with continuously prove this.
Subscribe to our Newsletter
Stay informed
Receive Special offers and stay informed about the latest developments in the world of Water Toys.
In order to understand how we use and protect your personal information, please read our privacy policy.